Bluemoonstone Creations
Moonstone Opal Dangle Earrings—ART NOUVEAU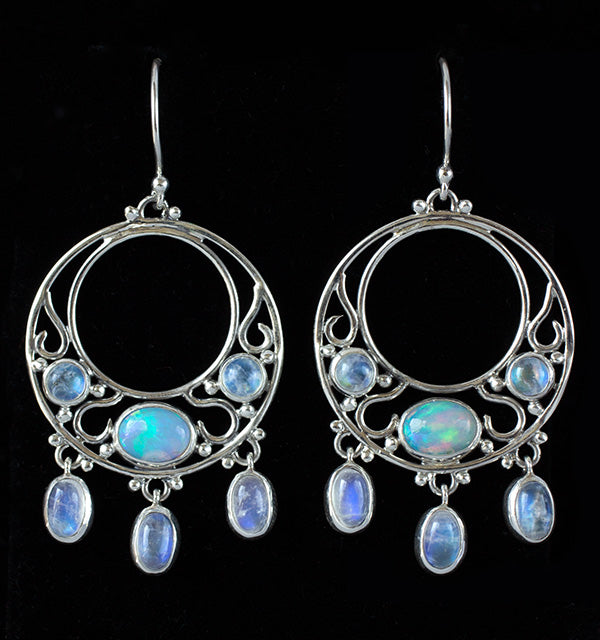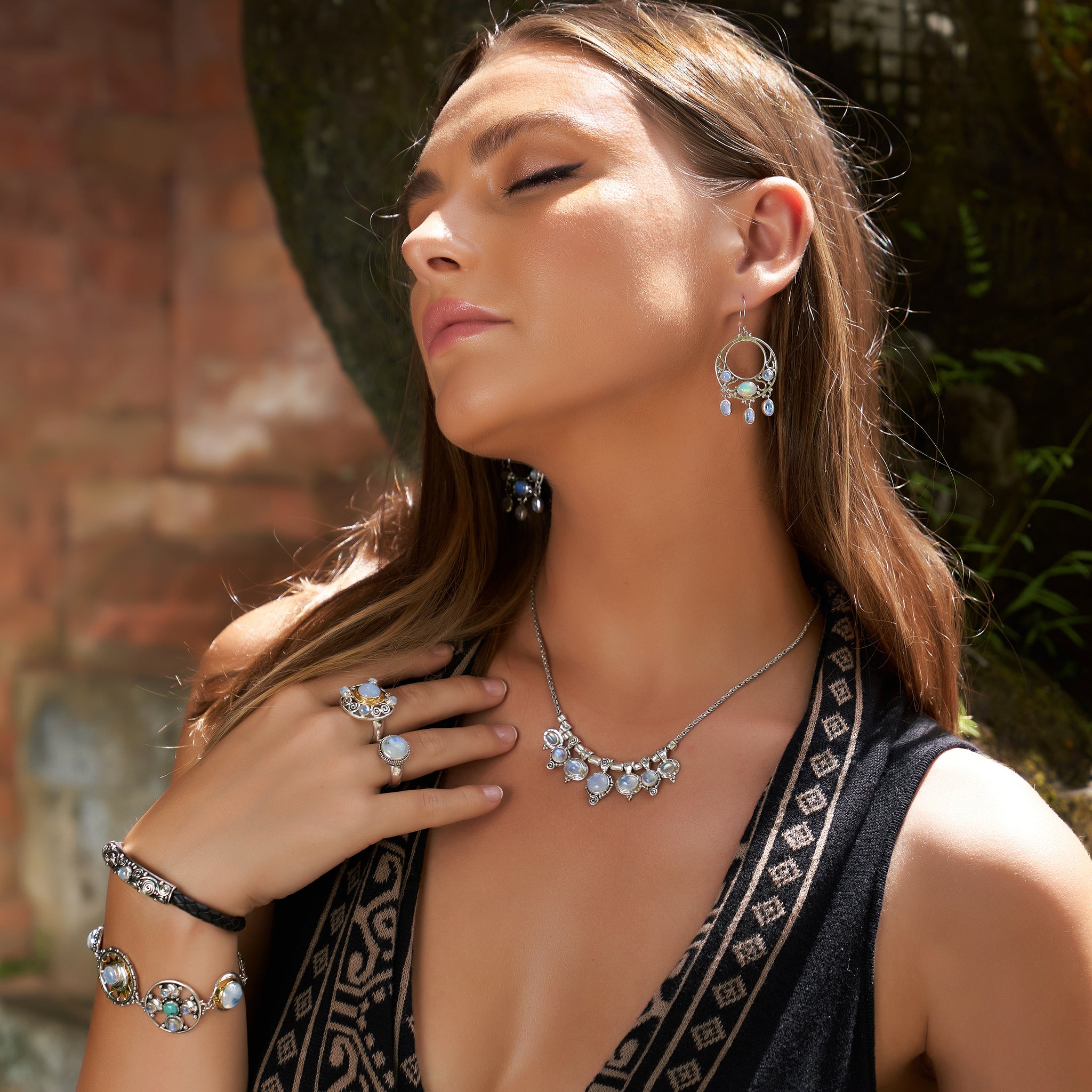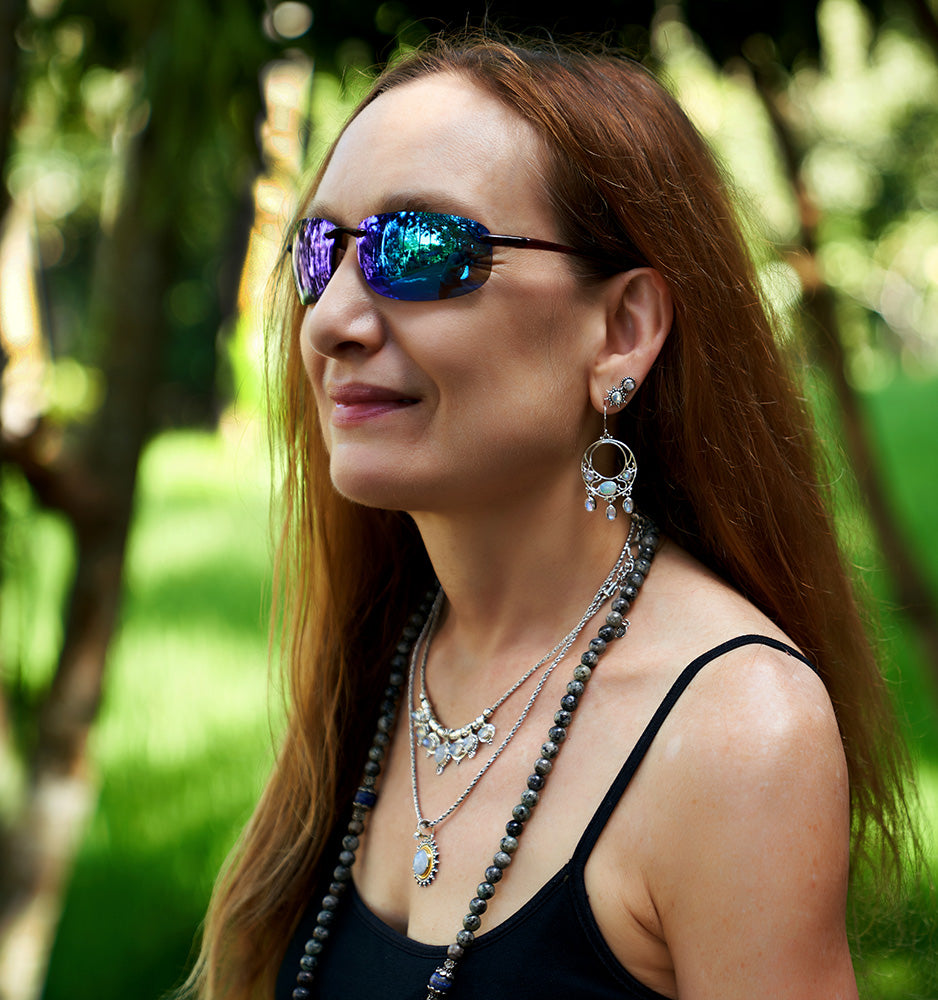 Description
Sterling Silver Moonstone Opal Earrings
These
Rainbow Moonstone
and
Ethiopian Fire Opal dangle earrings
, inspired by
Art Nouveau
, embody the enchanting fusion of Moonstones and Opals handset in delicate filigree hoops. Oval Moonstones dangle below, creating dramatic statement earrings with an upscale
bohemian
flair.
The semi-precious gemstones also carry special significance.
Ethiopian Opals
are believed to inspire optimism, insight, creativity, and inspiration.
Rainbow Moonstones
are believed to enhance your intuition, awaken your psychic abilities, provide protection and attract love.
Crafted with meticulous attention to detail, these earrings showcase the artistry and passion of
Bluemoonstone Creations
. Each element is meticulously handcrafted, ensuring a unique and exceptional piece of jewelry that reflects the artistic spirit.
These Moonstone and Opal dangle earrings are a perfect accessory for those seeking to embrace their
bohemian style
. Embrace the magical allure of Moonstones and Opals with these handcrafted earrings, and let your inner boho spirit shine.
The Rainbow Moonstone and Fire Opal earrings come individually packaged in our black Bluemoonstone Creations gift box with a description card, describing the spiritual and beneficial healing properties of the Rainbow Moonstone and Ethiopian Fire Opal gemstones, along with a brief bio of the designer.

 All of our Sterling Silver Rainbow Moonstone jewelry is designed in America by Pamela Forman and handcrafted in Bali, where Balinese artisans apply their exquisite skill and traditional background in jewelry-making.
Explore our full Opal Collection to discover complementary pieces to pair with these Opal Moonstone dragonfly earrings.
Notified by email when this product becomes available
Product Details
Rainbow Moonstone and Ethiopian Opal dangle earrings handcrafted in the finest .925 Sterling Silver.
• From the Opal Collection, featuring Ethiopian Fire Opal and Rainbow Moonstone gemstones to inspire optimism, insight, & creativity and to enhance your intuition, provide protection & bring equilibrium to your life.
• 4-4mm & 6-6x4mm Rainbow Moonstones and 2-8x6mm Ethiopian Opals.
• Each natural gemstone is unique and may vary slightly.
• Height: 1 5/8" (From top ring to bottom)
• French wire ear wires.
• Designed in America & Handcrafted in Bali.
• Comes with a description card in a decorative gift box.
• Matches our Art Nouveau Necklace.
• Gift wrapping available at checkout.