Bluemoonstone Creations
Sun Moon Moonstone Earrings—LUCINA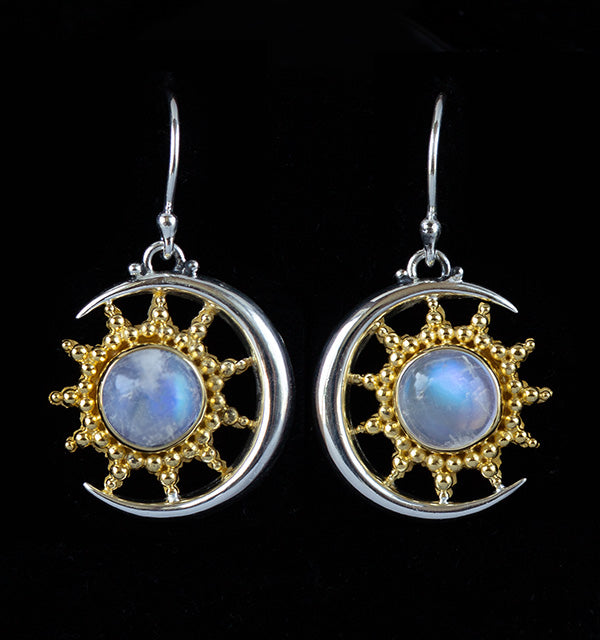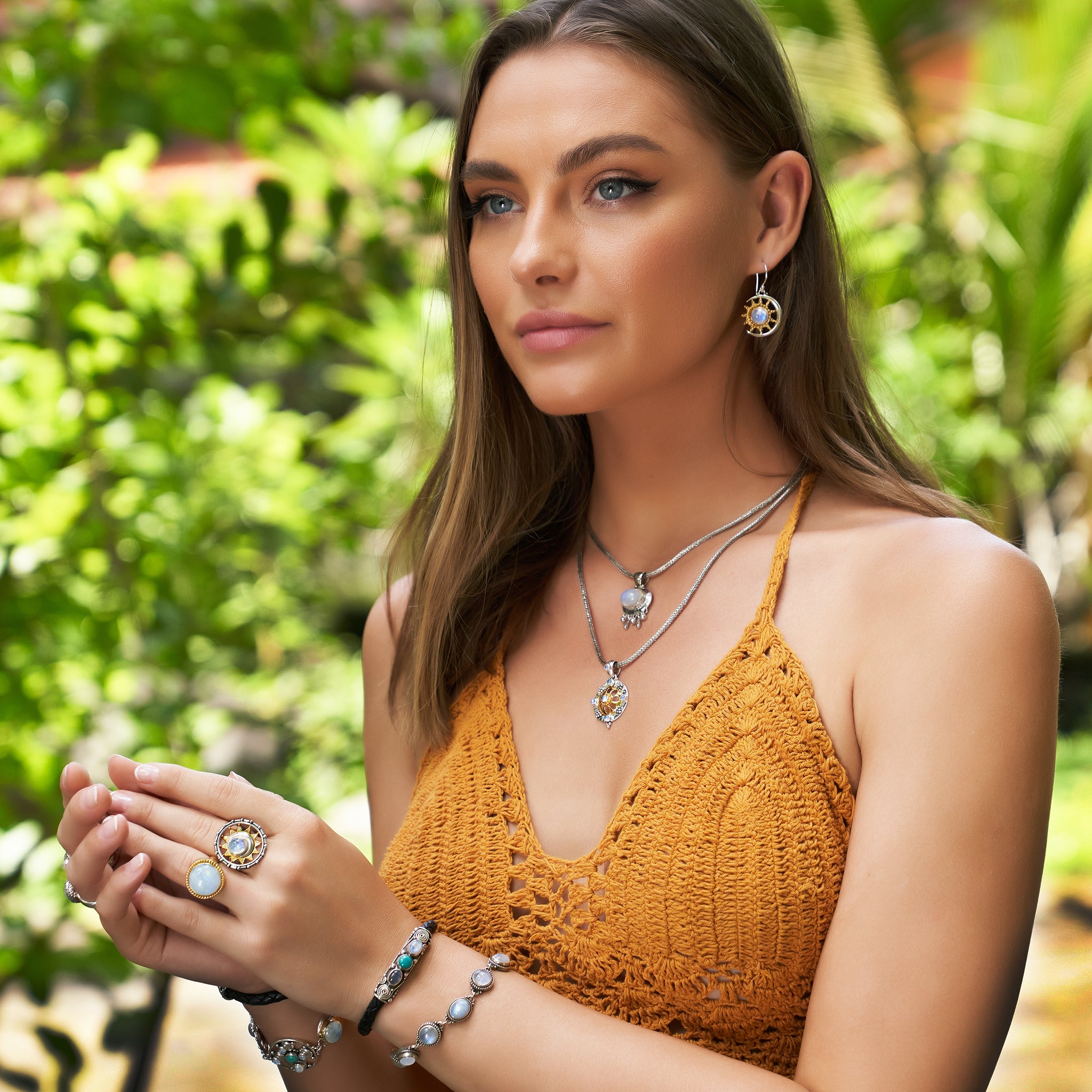 Description
Sterling Silver & 18K Gold Vermeil Earrings
These sun and moon
Rainbow Moonstone
earrings are handcrafted with love and meticulous attention to detail. The exquisite earrings combine the ethereal beauty of Rainbow Moonstones with the timeless elegance of
Sterling Silver
and the luxurious allure of
18K Gold Vermeil
in the celestial harmony of the sun and moon.
Opulent
Rainbow Moonstone
gemstones radiate from the centers of 18K Gold suns, intricately designed in a Balinese style with granulation. The sun is embraced by meticulously crafted Sterling Silver crescent moons hanging from French ear wires.
While the
sun
symbolizes vitality, energy, and life, the
moon
represents feminine energy, emotions, and feelings. Together they bring balance to your life with a touch of celestial magic. The ethereal glow of the
Moonstones
increases your intuition, provides protection, and attracts love.
The interplay of silver and gold creates a harmonious contrast, accentuating the intricate detailing and adding a luxurious touch to the earrings.
The celestial sun and moon earrings come individually packaged in our black Bluemoonstone Creations gift box with a description card, describing the spiritual and beneficial healing properties of the Rainbow Moonstone gemstones, along with a brief bio of the designer.
All of our Rainbow Moonstone jewelry is designed in America by Pamela Forman and handcrafted in Bali, where Balinese artisans apply their exquisite skill and traditional background in jewelry-making.
Explore our full Harmony Collection to discover complementary pieces to pair with these Sterling Silver and Gold Vermeil Rainbow Moonstone sun and moon earrings.
Notified by email when this product becomes available
Product Details
Sun and moon Moonstone earrings handcrafted in the finest .925 Sterling Silver and 18K Gold Vermeil.
• From the Harmony Collection, featuring a harmonious blend of Sterling Silver and 18K Gold.
• 2-9mm Rainbow Moonstones from India, to enhance your intuition, provide protection & attract love.
• Each natural gemstone is unique and may vary slightly.
• Height: 1" (From top ring to bottom)
• French wire ear wires.
• Designed in America & Handcrafted in Bali.
• Comes with a description card in a decorative gift box.
• Matches our Lucina Necklace.
• Gift wrapping available at checkout.